Welcome to agriGO v2.0 -- GO Analysis Toolkit and Database for Agricultural Community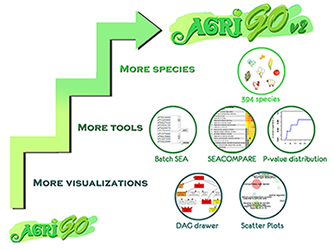 AgriGO v2.0 is a web-based tool and database for gene ontology analyses. It specifically focuses on agricultural species and is user-friendly. AgriGO v2.0 is designed to provide deep support to the agricultural community in the realm of ontology analyses. New advantages and features of agriGO v2.0 are as follows:
1. The agriGO v2.0 focuses on agricultural species in particular. It supports echo $species ?> species and echo $datatype ?> datatypes. Additionally, agriGO was designed as a user-friendly web server.

2. A new species' classification system, single species analysis and reference datatype priorities help users to perform fast and accurate analyses.

3. Analysis tools, including the Singular Enrichment Analysis (SEA), Parametric Analysis of Gene set Enrichment (PAGE), BLAST4ID (Transfer IDs by BLAST) and SEACOMPARE (Cross comparison of SEA) were retained. These tools provide users with means for data mining and systematic result exploration and will allow better data analyses and interpretations.

4. Custom analysis tools including custom direct acyclic graph (DAG) tree and Scatter Plot were developed. These tools increase input flexibility.

5. A Batch SEA tool of multiple inputs, such as time-course samples, was provided, as well as the distributions of the p-values (PVD) of the significant GO terms randomly generated.

How to cite
agriGO v2.0: Tian Tian, Yue Liu, Hengyu Yan, Qi You, Xin Yi, Zhou Du, Wenying Xu, Zhen Su; agriGO v2.0: a GO analysis toolkit for the agricultural community, 2017 update. Nucleic Acids Res 2017 gkx382. doi: 10.1093/nar/gkx382
agriGO v1.0: Zhou Du, Xin Zhou, Yi Ling, Zhenhai Zhang, and Zhen Su; agriGO: a GO analysis toolkit for the agricultural community Nucleic Acids Research Advance Access published on July 1, 2010, DOI 10.1093/nar/gkq310. Nucl. Acids Res. 38: W64-W70.